Timeline of Theatre Space and Scenery in the West: A (necessarily) incomplete collection of performance spaces and designs from Europe and the Americas.
[Under Construction]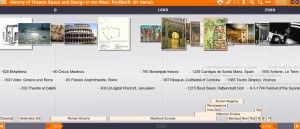 This is a "living" resource and new information will be added periodically, including links to, and citations of, histories and critical writing.
I welcome e-mails from visitors with questions and suggestions for additional information, articles, images, and videos. Most of the images lack attribution. I'm happy to point instructors and researchers to sources upon request.
Higher quality versions of the images are available elsewhere, including the internet; however, access to some high resolution images requires permission from archives and libraries. Other files were borrowed from Marvin Carlson's vast collection. Thank you, Marvin, for sharing.
Christopher Swift
New York City College of Technology, CUNY
cswift@CityTech.Cuny.Edu