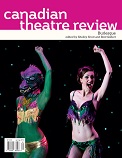 Burlesque
Edited by Shelley Scott and Reid Gilbert
CTR#158 offers an extended conversation about burlesque in Canada, from archival photos and historical contextualization to the most current interpretations of what neo-burlesque can be and what it can do. The audacious urban experience of Montreal lives beside the off-the-grid exuberance of Lasqueti Island. The details of costume construction in ancouver are considered alongside legal definitions that dictatecostumes in Calgary.
The issue offers an in-depth exploration of Toronto's Operation Snatch, formerly The Scandelles, with two articles that chart the company's trajectory from burlesque to political cabaret, a Scandelles script, and an interview with founder Alexandra Tigchelaar. Also exclusively online, Adriana Disman has curated a dialogue among socially conscious performers using neo-burlesque for social change. Whether conveying the experience of a male burlesque performer or drawing parallels with the community-building appeal of roller derby, the authors in this issue dissect, interrogate, and expand the definitions of burlesque.
Click here to read the editorial and view the full table of contents.