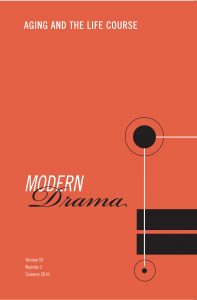 Modern Drama, 59:2, Summer 2016, "Aging and the Life Course"
This issue of Modern Drama brings together major scholars in the fields of age studies, theatre history, and performance studies to examine how theatre, as an embodied art that unfolds over time, can both model and challenge narratives, affects, and cultural understandings (and misunderstandings) about aging. Modern drama and gerontology echo each other most directly in their search for new structures that might accommodate the pluralism and specificity of the entire life course. According to the UN Department of Economic and Social Affairs, 12.3 per cent of the global population was aged 60 or over in 2015; by 2050, that figure is estimated to grow to 21.5 per cent. Each of the six new essays in this issue considers how theatre, as an art that grafts flesh to figures, helps us to imagine growing older, caring for an aging population, dementia, and "successful aging" in an era when more people will live longer than they ever have in human history.
Click here to view the full table of contents.
Thank you,
AUDREY GREENWOOD
Advertising and Marketing Coordinator
UNIVERSITY OF TORONTO PRESS
5201 Dufferin Street
Toronto, Ontario, M3H 5T8
Phone: 416-667-7766
Email: agreenwood@utpress.utoronto.ca
utpjournals.com
http://www.facebook.com/utpjournals