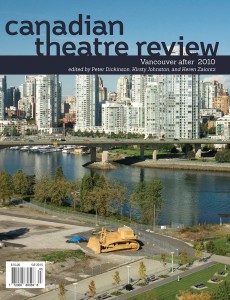 NOW AVAILABLE AT CTR ONLINE  –  CTR 164, Fall 2015 "Vancouver after 2010"

Also available on Project MUSE 
A startling correspondence across former Olympic and Paralympic host cities is that aggressive social welfare cuts have followed the event. These cuts have serious material consequences for those very artists and minority groups that proved so central to winning bids and staging Opening and Closing ceremonies. Five years after the 2010 Vancouver Olympic and Paralympic Winter Games, with the city's arts communities still recovering from a series of provincial funding cuts that actually began in 2009, and with post-Olympics development projects encroaching on artist live-work spaces, this special issue of Canadian Theatre Reviewbrings together scholars, artists, and cultural producers to ask what kinds of resources remain after a mega-event has left town? How do artists and companies adapt to new economic circumstances and leverage audience attention for and investment in new projects? And what might a reading of the specific aesthetic, social, and affective legacies of different Olympics- and Paralympics-related performances tell us about the state of arts and culture in Vancouver today? From public art and sound walks, to hockey games and real estate speculation, this issue reveals the pervasive power of the Olympics to continue to shape how Vancouverites move through and live within the city. Fix, the published script by award-winning playwright Alex Bulmer, demonstrates how citizens of host cities from Vancouver to London must continually renew the fight to the right to the city. Bulmer's "audio provocation" seeks to engage youth in the deep questions of citizenship, particularly concerning disability and inclusion. Her script is one of many battle cries in this issue that show art and performance to be more than a stage for official culture, but a political force with which to be reckoned.
Click here to read the full introduction.
You can also access CTR on the various online platforms below.
CTR Online (http://bit.ly/CTRONLINE)
Project MUSE (http://bit.ly/ctrPMUSE)
CTR on YouTube (http://bit.ly/ctrYTUBEVIDEOS)
Website (www.canadiantheatrereview.com)
Facebook (http://bit.ly/CTRFaceBook)
Kobo Newsstand (http://bit.ly/CTRkobonewsstand)
Magazines Canada's Cultural Boutique (http://bit.ly/CTR49thShelf)
Join CTR email list!
Please sign up for important news relating to Canadian Theatre Review. You'll receive emails with peeks inside new issues, Tables of Contents, Calls for Papers, editorial announcements, open access articles, and special offers. You can unsubscribe at any time by clicking "Unsubscribe" in the footer of our emails. Sign up here – bit.ly/ctralerts
{ 0 comments }