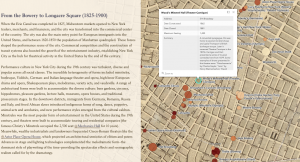 The City Performs: An Architectural History of NYC Theaters contains city block locations, resource links, images, and brief descriptions of over 400 historical and contemporary performance spaces in the five boroughs of NYC, from the colonial period to the present. A brief historical narrative runs alongside the interactive maps. The OER (Open Educational Resource) is pitched for use in undergraduate classrooms; theatergoers, theater makers, and historians of every ilk may also be interested. Please share and use openly (Creative Commons Attribution-NonCommercial 4.0 International License). In its current form, the survey of historical structures is nearly comprehensive. Information is added (and amended) on an ongoing basis. Email cswift@citytech.cuny.edu with suggestions for changes and additions.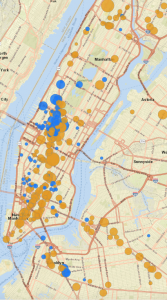 Research for the project began in 2018. However, the genesis of the The City Performs was over a decade ago in Marvin Carlson's History of Scene Design course at the Graduate Center, CUNY. This is where my interest in theater architecture and material culture was ignited. In my own teaching I continue to use images from the immense collection Marvin generously shared with his students. Thank you, Marvin!
Support for The City Performs was provided by the National Endowment of the Humanities and a City Tech Emerging Undergraduate Scholars grant (contributions by Diego Atauchi, Solangie Falla Crespo, and Freddie Ruiz).
{ 0 comments }