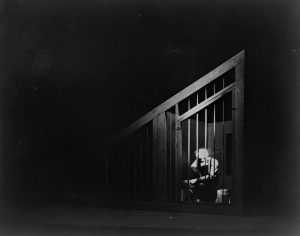 Louis Wolheim as Robert Smith, "Yank." Billy Rose Theatre Division, NYPL
This is an account of one lesson plan's pivot from slide presentation to real time research.
I wanted to make a slide show of production stills from the 1922 production of Eugene O'Neill's The Hairy Ape. I imagined the students being brought into the creative decisions made by the Provincetown Players as we looked at the New York Public Library's digital collection of slides together. We would analyze set design and lighting choices, as well as the gesture and physicality of the actors. It would be a great way to show students what the NYPL's massive digitization project has made available.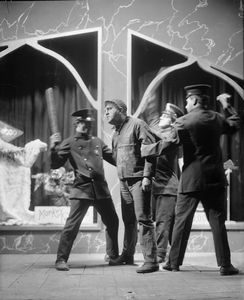 Louis Wolheim as Robert Smith, "Yank." Billy Rose Theatre Division, NYPL.
Then I stopped myself. If I showed students the production stills in an assembled slide show, it would continue to obscure the process of using digital tools to find archival materials. Wouldn't it be better if students located the images themselves?
They already had their laptops in class since we read the freely available script from eOneill.com. We spent a good portion of class discussing the episodic structure, the specificity of O'Neill's stage directions, his use of language to mark ethnicity and class, and the staging of white working-class masculinity in contrast to Mildred's white-dress wealth.
Then we discussed production options and the dilemma of the gorilla. How would they stage Scene VIII at the zoo? Is the gorilla meant to be a mirror or a contrast to Yank? Therefore, should the two figures be close in size or quite different? What are the aesthetic and political risks in staging the gorilla? Students identified a variety of problems with using a gorilla suit, including it becoming humorous and disrupting the pathos of Yank's existential alienation. "Too literal / realistic" was another problem.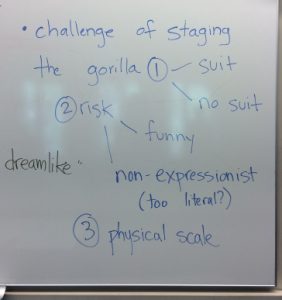 Finally, I asked students to get in pairs and google "NYPL Digital Collections." They quickly chose the most obvious search phrase, the title of the play, and were amazed to see 21 actual production stills, like precious messages from the Provincetown Players from 94 years ago. In pairs, students clicked through the images, selected their favorite, and then did a low-stakes  freewrite about the image: what they saw, what they liked about it, and what it told them about the original production. We then discussed several teams' responses while looking at their chosen image projected on the screen at the front of the classroom.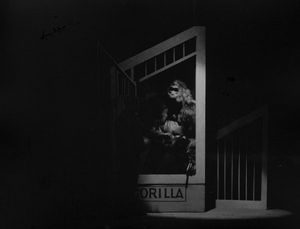 Louis Wolheim as Yank. Billy Rose Theatre Division, NYPL.
This exercise brought the material to life, energized the classroom with visual culture and production discussions, and fostered community building among students who collaborated to analyze the production stills. Crucial to my learning goals, it introduced the process of digital research to students in a low-stakes atmosphere.
This post was originally published on https://catherineyoung.net/