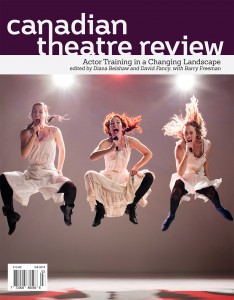 CTR 160, Fall 2014
Actor Training in a Changing Landscape
Also available at CTR online
Featuring the voices of acting trainers, actors, directors, graduates, policy makers and theorists from across the country, this issue explores key challenges facing acting training in English-speaking Canada. It also begins to imagine ways through and beyond them. The concept of "diversities" is used as a central organizing principle to unpack monolithic realities blocking the development of acting training, including a current and troubling absence of diversity in institutional approaches to aesthetics, to questions of gender and sexuality, and to the cultural realities of the student population. From the classroom, to the rehearsal, to the stage, this collection of interviews, lively conversations, essays and manifestos is sure to shift and intensify the national discussion about acting training.
Click here to view the full table of contents.
The Canadian Theatre Review features thought-provoking plays and articles on current issues and trends in Canadian theatre. CTRprovides the Canadian theatre community with in-depth feature articles, manifestos, slideshows, videos, design portfolios, photo essays, and other documents that reflect the challenging forms that theatre takes in the contemporary Canadian arts scene.
You can also access CTR on the various online platforms below.
CTR Online (http://bit.ly/CTRONLINE)
Project MUSE (http://bit.ly/ctrPMUSE)
CTR on YouTube (http://bit.ly/ctrYTUBEVIDEOS)
Website (www.canadiantheatrereview.com)
Facebook (http://bit.ly/CTRFaceBook)
For more information about the Canadian Theatre Review or for submissions information, please contact:
Canadian Theatre Review
University of Toronto Press, Journals Division
5201 Dufferin Street, Toronto, ON M3H 5T8, Canada
Tel: (416) 667-7810 Fax: (416) 667-7881
Fax Toll Free in North America 1-800-221-9985
Email: journals@utpress.utoronto.ca
Website: www.canadiantheatrereview.com
{ 0 comments }